1928 Five Dollar Federal Reserve Notes – Values and Pricing
Series of 1928 green seal Federal Reserve note five dollar bills come in five different types:
1928 – 1928A – 1928B – 1928C – 1928D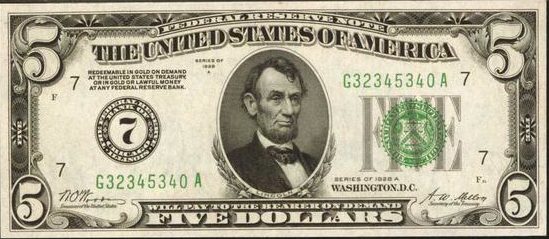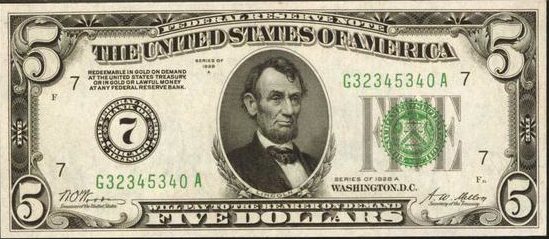 You can determine what series your five dollar bill from 1928 is by looking at the area to the lower right of Lincoln's portrait.  In the picture below you can see that the five dollar bill is from the series of 1928A.  We circled the A in red.  If there is no series letter then it is from just series of 1928.
Below you can see the black seal found on a 1928 five dollar bill.  Five dollar bills from 1928 and 1928A will have a number in their black circle.  Five dollar bills from 1928B, 1928C, and 1928D have a letter instead of a number.  These can be any number from one to twelve, or they can be any letter from A to L.
The serial number on a 1928 five dollar bill also tells you information.  The first letter signifies which district the bill was issued for.  All serial numbers should end with the letter A or a star symbol.  Notes that end with a star symbol are more valuable.  We have a full guide to 1928 five dollar star notes here.  You can also see a black six in the picture below.  Every 1928 five dollar bill has a number in each corner.  These numbers tell us which Federal Reserve district each note was printed for.
1928 five dollar bills are special because they were redeemable in gold.  They read "Redeemable In Gold On Demand At The United States Treasury, Or In Gold Or Lawful Money At Any Federal Reserve Bank."  This phrase does not make 1928 Federal Reserve note five dollar bills also gold certificates.  Gold certificates have a gold seal and were not even printed for the five dollar denomination in 1928.
All 1928 green seal fives were printed in Washington DC, feature Abraham Lincoln, and were signed by The Secretary of The Treasury and The Treasurer of The United States.  The value of each bill depends on the condition and serial number.  Click on a series year above or a picture below to learn more about exact pricing.