A Guide To Values and Pricing for Star Notes
Star notes are a highly collectible subset of United States currency. It is simple to spot a star note. A star note will have a serial number that either begins or ends with a star symbol. Scroll to the bottom of this page for pricing on dozens of star notes
Star notes were printed by The Bureau of Engraving and Printing to have on hand to replace money if it was misprinted. So instead of having to reprint the misprinted currency the BEP just placed the star notes into circulation. Keep in mind that star notes were printed with serial numbers starting at 00000001, so the star note serial number is not the same as the serial number that was destroyed.
Star notes come in three different varieties:
Large Size Stars Notes – 1880 – 1923:
Currency that is bigger than money today is known as large size currency. Star notes were first printed for large size currency in 1910. However, a lot of currency has a series year well before 1910 that was still being printed up to 1910 and after. So you can find star notes on large size notes with a series year as early as 1880. All large size star replacement notes have a star symbol with a hole in the center of the star. There are some large size notes, specifically from 1869, 1890, and 1891, that have a solid star as part of the serial number design. You can learn more about large size star notes here. If the star symbol is solid and not holed then the star is not a replacement star. See the picture below: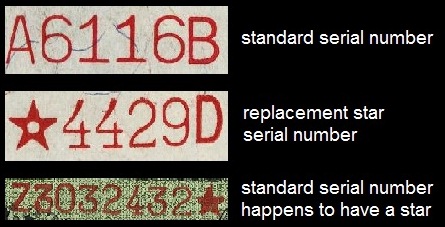 Small Size Star Notes – 1928 – 1934:
1928 marked the first year that current size, aka "small size", currency was printed.  Star notes were also issued for currency from 1928, 1933, and 1934.  Star notes from this time period have a solid star symbol at the beginning or end of the serial number.  The value of these star notes depends on condition and rarity.  There is a guide below that should be helpful.
Small Size Star Notes – 1935 to Present:
1935 marked the first year of the open star symbol on small size currency.  All star notes from 1935 and newer are considered fairly common.  There are a few exceptions like the 1953B $5 silver certificate star note.  However, most everything else will carry little to no premium.  See the guide below for more pricing.

The table below will hopefully provide some useful information about the value of star notes. Keep in mind that condition and serial numbers are still very important when dealing with star notes. The list is sorted by denomination and then by year.
| | | | |
| --- | --- | --- | --- |
| Year | Denomination | Seal Color | Value |
| 1923 and older | various | various | see large size star guide |
| 1928 | $1 | red | rare, $1,500+ |
| 1928 | $1 | blue | common, $50 and up |
| 1928A | $1 | blue | common, $50 and up |
| 1928B | $1 | blue | common, $50 and up |
| 1928C | $1 | blue | rare, see guide |
| 1928D | $1 | blue | rare, see guide |
| 1928E | $1 | blue | rare, see guide |
| 1934 | $1 | blue | common, $50 and up |
| 1935A | $1 | brown | common, $100 and up |
| 1935A | $1 | yellow | common, $100 and up |
| 1935 (A-H) | $1 | blue | common, about $3 |
| 1957 (A-B) | $1 | blue | common, about $3 |
| 1963 and newer | $1 | green | face value |
| 1928 | $2 | red | see guide |
| 1928A | $2 | red | see guide |
| 1928B | $2 | red | rare, see guide |
| 1928C | $2 | red | see guide |
| 1928D | $2 | red | see guide |
| 1928E | $2 | red | see guide |
| 1928F | $2 | red | see guide |
| 1928G | $2 | red | see guide |
| 1953 (A-C) | $2 | red | common, about $5 |
| 1963 & A | $2 | red | common, about $5 |
| 1976 and newer | $2 | green | face value |
| 1928 | $5 | red | see guide |
| 1928 | $5 | green | depends on issuing district |
| 1928A | $5 | red | see guide |
| 1928A | $5 | green | depends on issuing district |
| 1928B | $5 | red | see guide |
| 1928B | $5 | green | depends on issuing district |
| 1928C | $5 | red | see guide |
| 1928C | $5 | green | rare, none reported |
| 1928D | $5 | red | see guide |
| 1928D | $5 | green | rare, none reported |
| 1928E | $5 | red | see guide |
| 1928F | $5 | red | see guide |
| 1929 | $5 | brown | depends on issuing district |
| 1934 | $5 | green | depends on issuing district |
| 1934 | $5 | blue | common, see guide |
| 1934 & A | $5 | brown | somewhat rare, $500 and up |
| 1934A | $5 | green | depends on issuing district |
| 1934A | $5 | blue | common, see guide |
| 1934A | $5 | yellow | somewhat rare, $200 and up |
| 1934B | $5 | green | depends on issuing district |
| 1934B | $5 | blue | common, see guide |
| 1934C | $5 | green | depends on issuing district |
| 1934C | $5 | blue | common, see guide |
| 1934D | $5 | green | depends on issuing district |
| 1934D | $5 | blue | common, see guide |
| 1953 | $5 | blue | common, about $8 |
| 1953A | $5 | blue | common, about $8 |
| 1953B | $5 | blue | rare, see guide |
| 1950 and newer | $5 | green | face value |
| 1928 | $10 | gold | common, $150 and up |
| 1928 | $10 | green | depends on issuing district |
| 1928A | $10 | green | depends on issuing district |
| 1928B | $10 | green | depends on issuing district |
| 1928C | $10 | green | very rare, see guide |
| 1929 | $10 | brown | depends on issuing district |
| 1934 | $10 | green | depends on issuing district |
| 1934 | $10 | yellow | very rare, see guide |
| 1934 | $10 | blue | common, $50 and up |
| 1934A | $10 | yellow | common, $150 and up |
| 1934A | $10 | green | depends on issuing district |
| 1934A | $10 | blue | common, $50 and up |
| 1934A | $10 | brown | see guide |
| 1934B | $10 | green | depends on issuing district |
| 1934B | $10 | blue | slightly rare, see guide |
| 1934C | $10 | green | depends on issuing district |
| 1934C | $10 | blue | common, $50 and up |
| 1934D | $10 | green | depends on issuing district |
| 1934D | $10 | blue | sometimes rare, see guide |
| 1953 | $10 | blue | common, $50 and up |
| 1953A | $10 | blue | common, $50 and up |
| 1950 and newer | $10 | green | face value |
| 1928 | $20 | gold | common, $200 and up |
| 1928 | $20 | green | depends on issuing district |
| 1928A | $20 | green | depends on issuing district |
| 1928B | $20 | green | depends on issuing district |
| 1929 | $20 | brown | depends on issuing district |
| 1934 | $20 | green | depends on issuing district |
| 1934 & A | $20 | brown | rare, see guide |
| 1934A | $20 | green | depends on issuing district |
| 1934B | $20 | green | depends on issuing district |
| 1934C | $20 | green | depends on issuing district |
| 1934D | $20 | green | depends on issuing district |
| 1950 and newer | $20 | green | face value |
| 1928 | $50 | gold | rare, see guide |
| 1928 | $50 | green | depends on issuing district |
| 1928A | $50 | green | rare, see guide |
| 1929 | $50 | brown | depends on issuing district |
| 1934 | $50 | green | depends on issuing district |
| 1934A | $50 | green | depends on issuing district |
| 1934B | $50 | green | depends on issuing district |
| 1934C | $50 | green | depends on issuing district |
| 1934D | $50 | green | depends on issuing district |
| 1950 and newer | $50 | green | face value |
| 1928 | $100 | gold | rare, see guide |
| 1928 | $100 | green | depends on issuing district |
| 1928A | $100 | green | rare, see guide |
| 1929 | $100 | brown | depends on issuing district |
| 1934 | $100 | green | depends on issuing district |
| 1934A | $100 | green | depends on issuing district |
| 1934B | $100 | green | depends on issuing district |
| 1934C | $100 | green | depends on issuing district |
| 1934D | $100 | green | depends on issuing district |
| 1966 | $100 | red | common, $250 and up |
| 1950 and newer | $100 | green | face value |
| 1928 | $500 | green | very rare, see guide |
| 1934 | $500 | green | $1,500 and up |
| 1934A | $500 | green | $1,500 and up |
| 1928 | $1,000 | green | very rare, see guide |
| 1934 | $1,000 | green | $2,000 and up |
| 1934A | $1,000 | green | $2,000 and up |
You can also click on one of the denominations below for a quick description of what is rare: