Star Notes from the Series of 1928 $5 Red Seal – Values and Pricing
Star notes from the 1928 five dollar red seal series can be very collectible.  However, you have to have the right combination of grade and series.  If you have a 1928 five dollar star note in uncirculated condition, all things equal, the notes with the most value are as follows:
Most valuable 1928 $5 red seal star notes (first listed is the most valuable):
-Series of 1928 A
-Series of 1928 D
-Series of 1928 (no letter)
-Series of 1928 E
-Series of 1928 B
-Series of 1928 C
-Series of 1928 F
There are some varieties in the 1928 red seal five dollar series that can make some notes worth more than others.  Factors like mules and wide vs. narrow can add value to otherwise less valuable star notes.
All 1928 five dollar star notes will have a serial number that begins with a solid red star.  The star symbol is then followed by 8 numbers.  The red ink serial number will always end with the letter A.  Abraham Lincoln is featured on the face of the bill.
Grade is extremely important in determining the value of 1928 red seal five dollar star notes.  Click your note below to learn more about pricing and rarity in the 1928 $5 star series.  We do buy all 1928 five dollar red seal star notes.  Contact us for a quote on your bill:  admin@oldcurrencyvalues.com 
$5 Red Seal Star Note – Series of 1928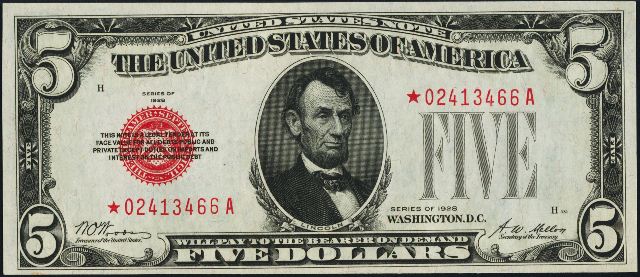 $5 Red Seal Star Note – Series of 1928A
$5 Red Seal Star Note – Series of 1928B
$5 Red Seal Star Note – Series of 1928C
$5 Red Seal Star Note – Series of 1928D
$5 Red Seal Star Note – Series of 1928E
$5 Red Seal Star Note – Series of 1928F